Explaining Bloom Equity
The opportunities in micro-cap SaaS
Happy Friday Founders & Friends!
We have been getting a ton of questions about our private equity practice. It was time to sit down Jay Vasantharah, General Partner of Bloom Equity, to shed some light on what has us so excited!
Let's dive in 🚀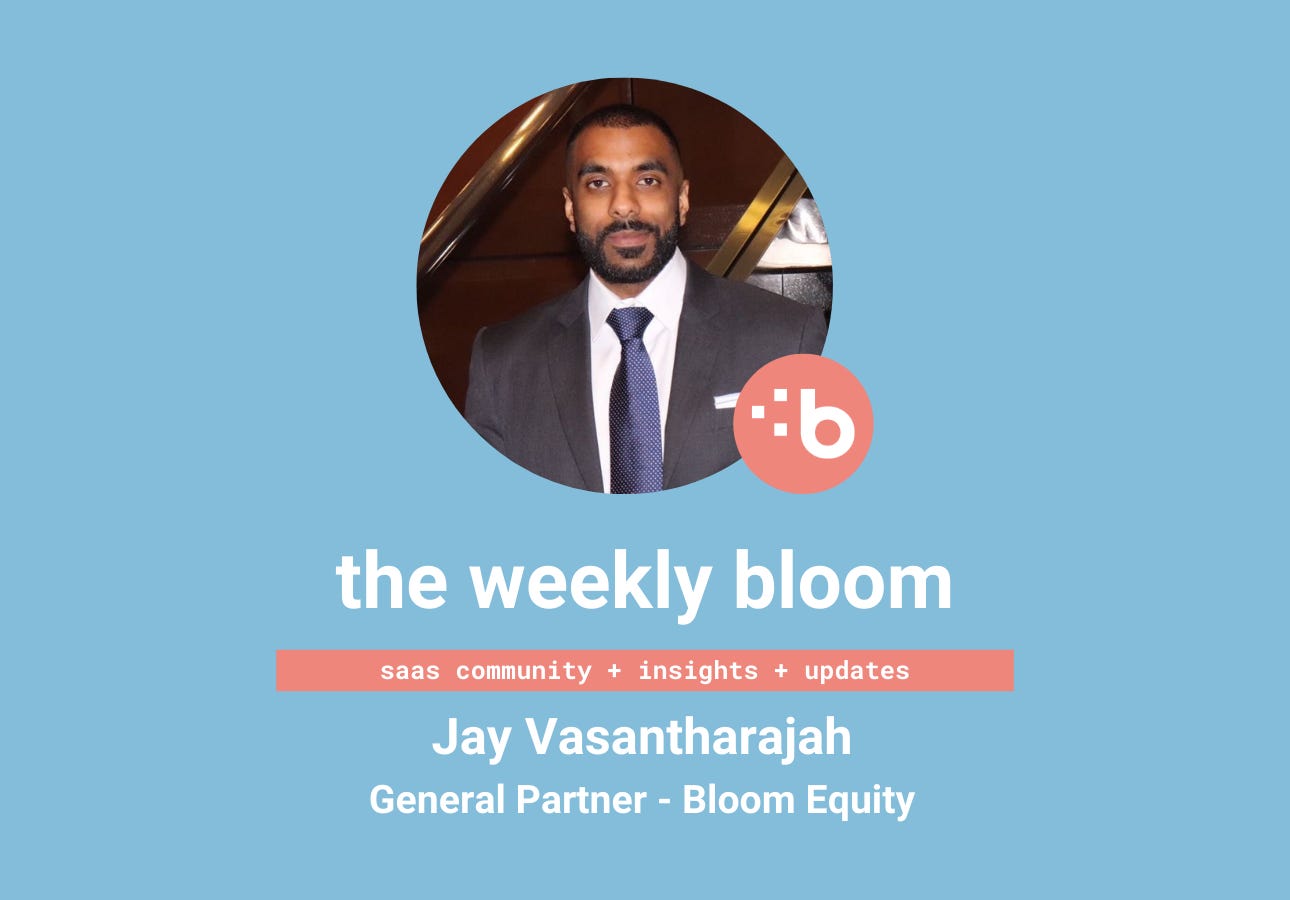 ---
A 1 on 1 with Jay Vasantharajah, General Partner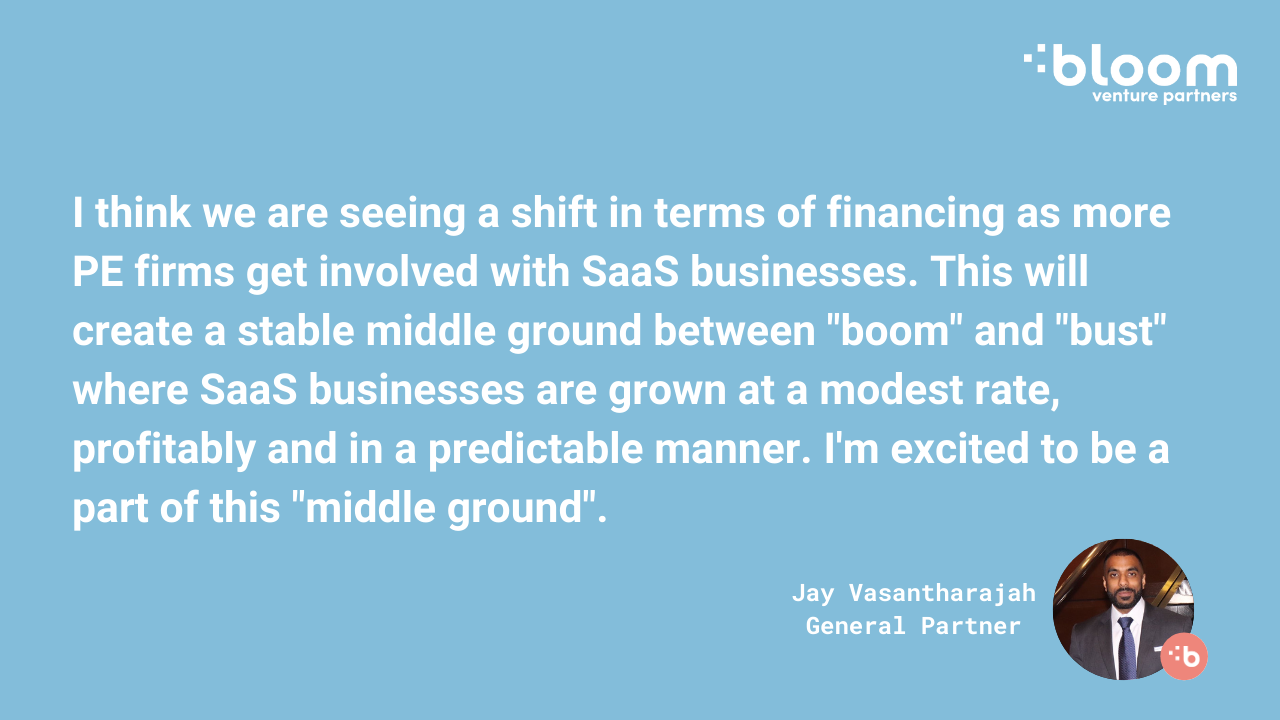 What's your story?
I started my career with Deloitte in their consulting division. After a couple of years, I left to start my first business which was a digital marketing agency that specialized in PPC. We managed millions of dollars of ad spend and we worked with hundreds of clients including YC-backed startups, global brands, and franchises. My agency won several awards for our work that we did over the course of 5 years.
Along the way, I've made several investments into various asset classes. This includes private businesses, like my eCommerce business and a handful of angel investments. I've grown a small multi-family real estate portfolio in the Toronto suburbs. I've also grown a portfolio of public equities, giving me diverse investment experience which I utilize in SaaS acquisitions.
How do you spend your time at Bloom Venture Partners?
I co-manage the private equity vehicle where we focus on full buyouts of small SaaS businesses. More specifically I'm responsible for sourcing and analyzing deals, negotiating with founders, and ultimately getting the deal done.
What gets you excited about Micro-Cap SaaS?
I believe there is a great opportunity in micro SaaS. We are still in the early days of software, as most people still equate software with VC funding. Venture funding can be great if used correctly but leads to binary outcomes. Boom or bust, without much in between.
I think we are seeing a shift in terms of financing as more PE firms get involved with SaaS businesses. This will create a stable middle ground between "boom" and "bust" where SaaS businesses are grown at a modest rate, profitably and in a predictable manner. I'm excited to be a part of this "middle ground".
What makes a great acquisition target?
The 3 main things I look for are vertical niche, mission-critical, and sticky customer base.
A vertical-niche, meaning that the software caters to a specific industry.

The software being mission-critical in that, the software virtually powers their client's business and it would be hard for them to operate without it.

A sticky customer-base is means customers love the product and retain long-term. This can easily be measured through churn rates. We like predictability and are obviously willing to pay a premium for it.
What happens after the acquisition?
We don't tie founders to any sort of lengthy earnout or long-term performance criteria. Instead, we hire a GM or CEO to manage growth and implement our playbook for customer service, sales, development, and operations.
The first 90 days or so, there is usually a bit of re-tolling required of the software, interface, or reporting systems to bring it up to par. From there we look to grow our businesses profitably and at a modest rate year over year, there will be no "cash burn" which is normal in hyper-growth VC land.
What types of companies do we go after?
Berkshire Businesses :: profitable, bootstrapped, simple, founder-run business in a niche vertical with some sort of competitive moat. The founder is usually looking to cash-out, move onto his/her next idea, or diversify their asset base.
3rd Quartile VC :: 1st and 2nd quartile VC businesses are growing and raising their next round. 4th quartile VC businesses are bankrupt. 3rd quartile means that the business is not growing fast enough to raise the next round, but not quite bankrupt yet. Here we often see a great product with loyal customers, but the business has been burdened with a bunch of overhead given the hyper-growth VC mandate. Bloom looks to give investors a soft landing, recapitalize and stabilize the business for profitability and continue servicing customers with the expectations of modest year over year growth.
---
New here? Join us for weekly community updates + insights delivered to your inbox.
---
Job Opportunities
Virtually is actively hunting for engineers and designers
LULA is beefing up its sales team to help scale the "Stripe for Insurance."
Bloom is looking for a multimedia wizard to take our content efforts to the next level. Email bart@bloomvp.com to learn more.
---
Bloom's Bookmarks
The Promise of Payrolls :: Andreesen Horowitz
It Takes at Least 7 Years in SaaS: Can You Do The Time? :: SaaStr
An Open-Ended Essay on Consumer Social :: Ariel Renous
Chamath Palihapitiya, Knowing Yourself :: The Knowledge Project
The Consumerization of Healthcare :: Nikhil Basu Trivedi
---
Favorites From The Ecosystem
---
End Note
As always, if you're enjoying The Weekly Bloom, we'd love it if you shared it with a friend or two. You can send them here to sign up. We try to make it one of the best emails you get each week, and I hope you're enjoying it.
And should you come across anything interesting this week, send it our way! We love finding new things to read through members of this newsletter.
P.S. Interested in sponsoring our upcoming SaaS podcast show, "the full bloom", featuring the best CEOs, VCs, and PE investors in SaaS? Reply to this email and enquire about our early-access promo.